China shows off a boarding school in Sichuan that's part of a system some see as forced assimilation
First-grade students, hands folded on their desks, watch a teacher write a brush-like stroke on a blackboard in their Tibetan alphabet. Outside, craggy mountains climb toward the brightest of blue skies. The air is clean and crisp at 2,800 meters, if a bit thin.
The Shangri-La Key Boarding School is an example of bilingual education, Chinese-style. Tibetan activists have a different term for it: forced assimilation. The issue is getting official attention this year, with UN human rights experts and representatives from the US and a handful of other Western governments condemning the system.
China has shuttered village schools across Tibet and replaced them with centralized boarding schools over the last dozen years. Many students come from remote farming villages and live at the schools. The practice is not limited to the region but appears to be much more widespread in Tibetan areas.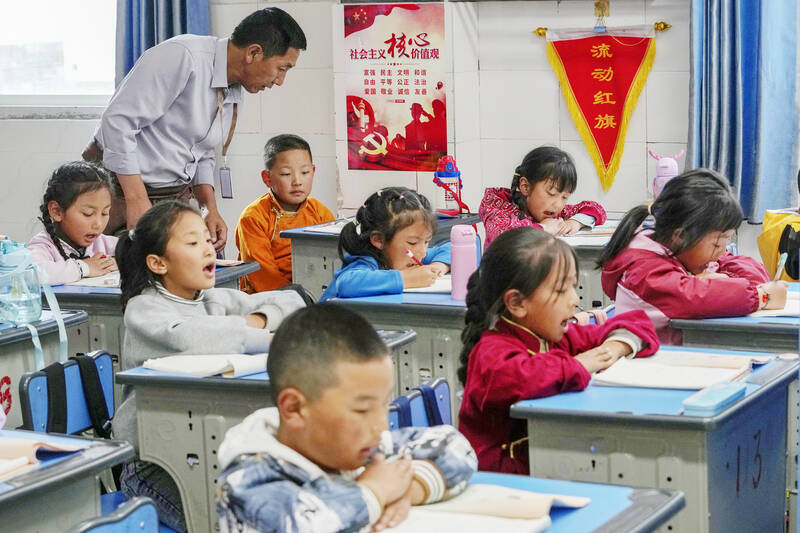 A teacher watches Tibetan students learn to write Tibetan words in a first-grade class at the Shangri-La Key Boarding School during a mediatour on Sept. 5 in Dabpa County, Sichuan, China.
Activists estimate 1 million Tibetan children study at such boarding schools, though the number is difficult to confirm. They say the schools are part of a broader strategy to dilute Tibetan identity and assimilate Tibetans into the majority Chinese culture. School officials respond that the lessons include Tibetan-related material such as songs and dance, and that the boarding schools were born out of a need to deliver the best education in impoverished remote areas.
"In ethnic areas, the population is scattered, and the government has put in a lot of effort to consolidate educational resources and provide an excellent teaching and learning environment for the students," Kang Zhaxi (康扎西), the principal of the Shangri-La school, told about 10 foreign journalists recently as lines of students spilled out of the cafeteria at dinnertime. "This is how it works."
Kang Zhaxi, who was speaking in Chinese, gave the Chinese version of his name, which would be Kham Tashi in Tibetan.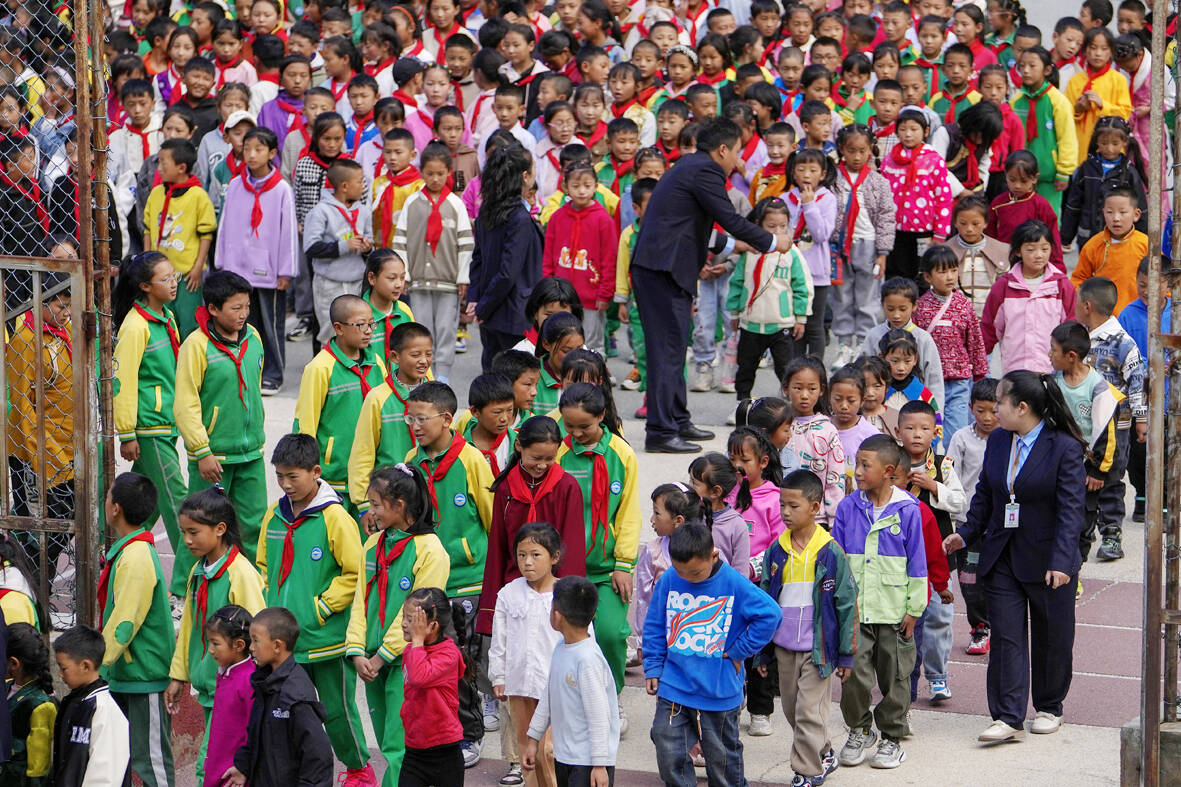 Tibetan students gather at the Shangri-La Key Boarding School during a media tour on Sept. 5 in Dabpa County, Sichuan, China.
RESHAPING SOCIETIES
China has long sought to eradicate any possibility of unrest in regions home to sizeable ethnic populations by imprisoning those who dare to protest while reshaping societies and religions — including Tibetan Buddhism, Islam and Christianity — to align them with the views and goals of the long-ruling Communist Party. The approach has hardened in the past decade under leader Xi Jinping (習近平), notably in a brutal crackdown on the Uyghur community in the Xinjiang region north of Tibet.
In the battle for global public opinion, the government organized a tour for foreign journalists to a predominantly Tibetan region in Sichuan province. Officials showed off schools, economic development projects, Buddhist monasteries and a Tibetan medicine hospital. Many of these locations, including boarding schools, would normally be difficult for foreign media to access. All interviews were conducted with government officials listening in.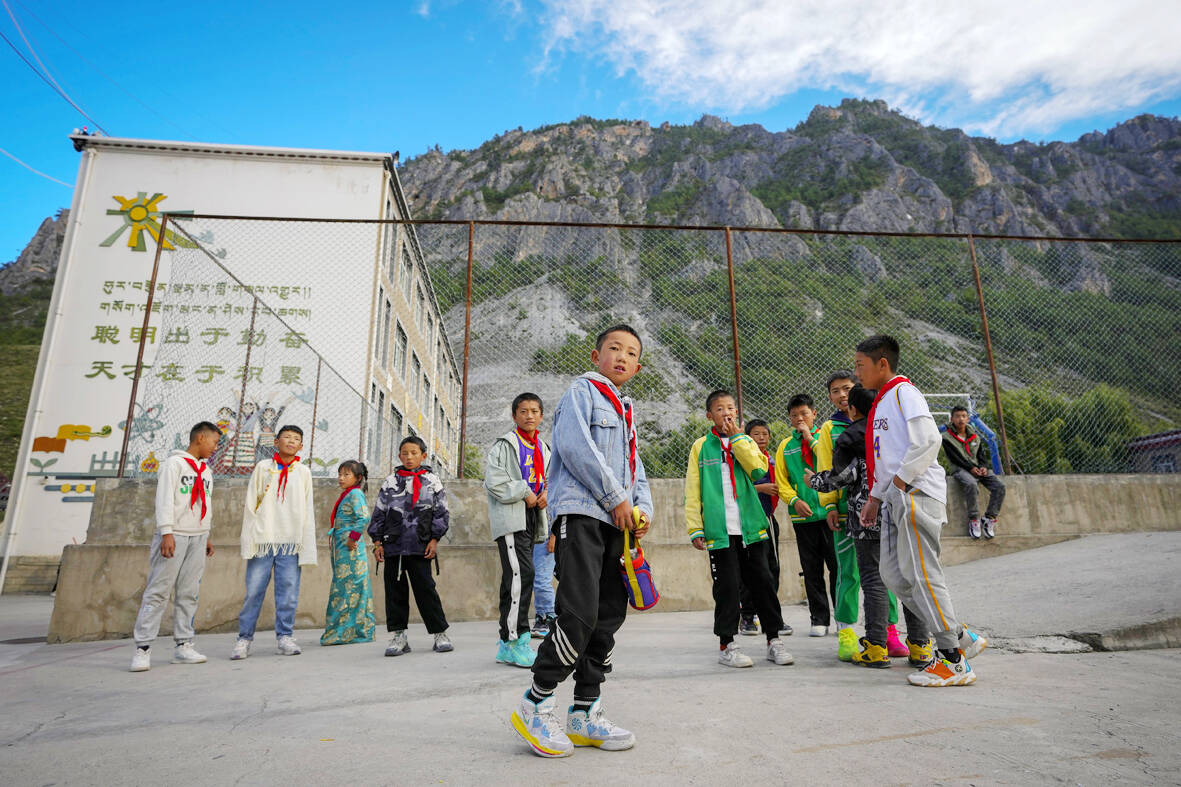 Tibetan students line up as they head for their meals at the Shangri-La Key Boarding School during a media tour on Sept. 5 in Dabpa County, Sichuan Province, China.
China's communists, after coming to power in 1949, overthrew the Buddhist theocracy running Tibet in 1951. The Dalai Lama, the head of the dominant school of Tibetan Buddhism, fled into exile during a failed uprising in 1959 and has not returned since.
Protests flared over the years, but after large demonstrations in the run-up to the 2008 Beijing Olympics, the government set out to quash dissent through arrests and intimidation, the reshaping of Tibetan identity into a more Chinese one, and lavish spending on infrastructure to develop the remote, mountainous region that borders northern India and Nepal along one flank of the Himalayas.
NO CHOICE
Kardze prefecture in Sichuan is a land of craggy mountains, rushing rivers, grazing black-haired yak and glittering pagodas and stupas. At 4,400 meters, one of its airports is the highest civilian one in the world. Journalists and government officials from Beijing were left short of breath, some finding relief in canisters of oxygen.
The boarding school opened in 2012 in a town that had been renamed Shangri-La a decade earlier to boost tourism. Hotels, including a Holiday Inn Express & Suites near the school, line the streets and steep cliffs rise above the valley.
It's difficult to judge whether the students are happy, or if they are losing their Tibetan way of life, as they bounce basketballs on an outdoor court or try to repeat a simple passage on a keyboard in music class. Their parents were nowhere to be seen, though schools officials said they could visit anytime.
About three-fourths of the 390 students live at the elementary school. Kang Zhaxi, the principal, said many parents choose the boarding option for their children because of the distance from home.
Activists, speaking generally, say the parents have no choice, because village schools have been shut and they may be penalized if they don't send their children to the larger schools that have replaced them. Kang Zhaxi taught in a village for eight years before moving to the Shangri-La boarding school. It wasn't clear if his previous school had been closed.
"You just do not in good conscience take young children away from their parents and families and communities and put them in boarding school at the rate that they are in Tibet," said Lhadon Tethong, the Tibetan Canadian director of the US-based Tibet Action Institute.
Her group issued a report in late 2021 that used Chinese government documents and other research to estimate at least 800,000 Tibetan children, or nearly 80 percent of the school-age population, were in such boarding schools. Gyal Lo, a Tibetan education expert who left China in late 2020, estimates at least 100,000 preschoolers are boarding, bringing the total close to 1 million. China denies the number is that high.
Gyal Lo, who now works at Tibet Action, said he visited more than 50 boarding preschools for field research after seeing the impact one was having on his 4- and 5-year-old grand nieces in 2016. He called it an ideological conspiracy to pull children out of their culture as early as possible so they won't want to speak or be Tibetan. "That's their ultimate goal, I think," he said.
WORLD REACTS
Human rights campaigns focused on China's actions in Hong Kong and against the Uyghurs in northwest China's Xinjiang region have generated more headlines in recent years, but the boarding school issue has helped nudge Tibet back onto the periphery of the international consciousness.
In February, the UN human rights office announced that three outside experts, acting as special UN rapporteurs, had sent a 17-page letter to China's foreign minister in November last year detailing their concern about an apparent policy to assimilate Tibetan culture into China's "through a series of oppressive actions against Tibetan educational, religious and linguistic institutions."
A press release focused on the boarding schools, under the headline: "UN experts alarmed by separation of 1 million Tibetan children from families and forced assimilation at residential schools."
The boarding schools then made it onto the agenda of a two-day hearing on China held in March by the UN experts committee on economic, social and cultural rights. Chinese officials responded to the criticism at the hearing, but the 18-member committee called on China in its final report to "abolish immediately the coerced residential (boarding) school system imposed on Tibetan children and allow private Tibetan schools to be established."
Since then, a German Foreign Ministry official has said his government backs that call, and Czech and Canadian lawmakers have issued statements calling for an end to the boarding schools. The US went the furthest, announcing in August that it would put visa restrictions on officials involved in the schools, which it said "seek to eliminate Tibet's distinct linguistic, cultural, and religious traditions among younger generations of Tibetans."
Halfway around the world, there were no signs of change as the sun set on another day at the Shangri-La Key Boarding School.
China has rejected the criticism outright. A Foreign Ministry spokesperson said the government would respond to the US action by placing visa restrictions on Americans "who spread rumors to smear China or have long meddled in Tibet-related issues."